EAO Schweiz AG
Your Expert Partner for Human Machine Interfaces
Contact - EAO Schweiz AG
Tannwaldstrasse 86
4600 Olten
Switzerland
Send a message - EAO Schweiz AG
Legal information - EAO Schweiz AG
| | |
| --- | --- |
| Nature | Head Office |
| Year established | 1998 |
| Legal form | Limited company |
| Describe your Company and attract Business opportunities | |
| Corporate capital | 250,000 CHF |
| Handelsregister-Nr. | CHE-107.869.821 |
| VAT no | CHE-107.869.821 MwSt |
| Kompass ID? | CH052527 |
| Kompass member for | + 7 years |
| Membership | Booster |
Presentation - EAO Schweiz AG

Nature of business:
EAO is a world leading expert partner for Human-Machine Interface (HMI) with long and proven experience in the ergonomic design, development, manufacture and distribution of highly reliable pushbuttons, indicators and customised HMI solutions. The innovative flair has enabled EAO to attain a dominant market position with competitive, reliable products and solutions in areas such as transportation, machinery, telecommunication, panel building, automotive and process and control engineering.

Parent company:
• EAO AG, Tannwaldstrasse 88, CH-4600 Olten (CH), Tel: +41 62 286 91 11, info@eao.com

Sister company:
• EAO (Guanghzhou) Ltd., 3/F, Block G4, South China New Materials Innovation Park, 31 Kefeng Road, Guangzhou Science City, CN-Guangzhou PRC (CN), Tel: +86 20 32290390 or +86 20 32290610, Fax: +86 20 32290380, sales.ecn@eao.com
• EAO (Shanhai) Office, Rm.403,Block 5#, CIFI Century Square, Lane 28, NO.21, Danba Road, Putuo District, CN-Shanghai PRC (CN), Tel: +86 21 6095 0717, Fax: +86 21 6095 0717, sales.ecn@eao.com
• EAO GmbH, Langenberger Straße 570, DE-45277 Essen (DE), Tel: +49 201 8587 0, Fax: +49 201 8587 210, sales.ede@eao.com
• EAO France S.A.S., 5 rue Henri François, FR-77330 Ozoir-la-Ferrière (FR), Tel: +33 1 64 43 37 37, Fax: +33 1 64 43 37 48, sales.efr@eao.com
• EAO (Far East) Ltd., Unit A1, 1/F, Block A, Tin On Industrial Building, 777 Cheung Sha Wan Road, Lai Chi Kok, Kln, CN-Hong Kong (HK), Tel: +852 2786 9141, Fax: +852 2786 9561, sales.ehk@eao.com
• EAO Italia S.r.l., Centro Direzionale Summit - Palazzo D1, Via Brescia, 28, 20063 Cernusco sul Naviglio (MI), IT-Italy (IT), Tel: 39 029 247 1934, Fax: +39 029 247 1935, sales.eit@eao.com
• EAO Japan Co. Ltd., Net 1 Mita Bldg. 3F, 3-1-4 Mita Minato-ku, JP-Tokyo 108-0073 (JP), Tel: +81 3 5444 54 11, sales.ejp@eao.com
• EAO Benelux B.V., Kamerlingh Onnesweg 46, NL-3316 GL Dordrecht (NL), Tel: +31 78 653 17 00, sales.enl@eao.com
• EAO Corporation, One Parrott Drive, Shelton, US-CT 06484, USA (US), Tel: +1 203 951 4600, Fax: +1 203 951 4601, sales.eus@eao.com
• EAO Ltd, Highland House, Albert Drive, Burgess Hill, GB-West Sussex RH15 9TN, United Kingdom (GB), Tel: +44 1444 236 000, Fax: +44 1444 236 641, sales.euk@eao.com

Statutory auditors:
• KPMG AG, Zürich
Company's Videos - EAO Schweiz AG
General Information - EAO Schweiz AG
Certifications
| | |
| --- | --- |
| Type: | ISO 9001:2008 2016 |
| Type: | ISO 14001:2004 |
| Type: | IRIS |
Banks
CREDIT SUISSE (4), Olten-A, 4601 Olten, Swift: CRESCHZZ46A
Herr Bernard Bonvalot
MD/Chief Operating Officer (Geschäftsführer)
Herr Christoph Siegenthaler
Manager (Management)
Herr Bernard Bonvalot
Manager (Management)
Herr Kurt Loosli
Chairman (Präsident des Verwaltungsorgans)
Herr Dirk Hofmann
Director (Mitglied des Verwaltungsorgans)
News - EAO Schweiz AG
New product
Mounting and PCB adapter for Series 61 E-Stop compact.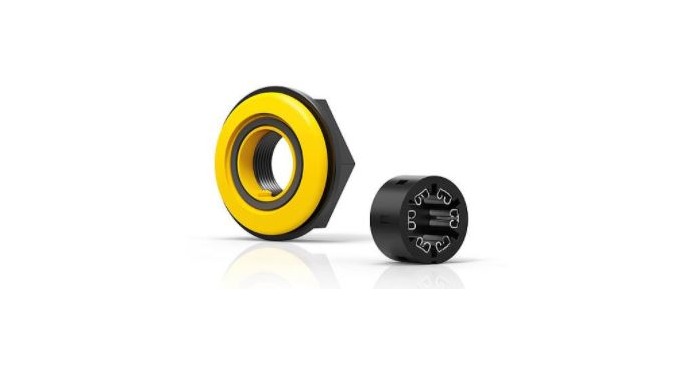 Date: August 25, 2020 10:00 PM
Quick and easy mounting for Ø 22.3 mm mounting cut-outs. – For flexible and safe PCB assembly.
Typical applications
Handheld control units
Production and plant machinery
Construction machinery
Agricultural machinery and vehicles
Special vehicles
The switch reliably protects people and equipment against injury and damage.
Advantages
Very low back panel depth (21.2 mm)
High front protections IP66, IP67 and IP69K
Robust mono-block design with mechanically decoupled triggering
Optional illumination
Up to three switching elements
Accessories
Mounting Adapter
– The Series 61 mounting adapter allows the 16.2 mm diameter emergency stop switch compact to also be used for standard mounting cut-outs of 22.3 mm diameter (as per DIN EN 60947-5-1). The adapter allows the device to be mounted to the front plate quickly and safely. It protects the switch against twisting once mounted.
PCB Adapter
– This PCB adapter enables the advantages of the Series 61 emergency stop switch compact to be combined with those of a constructed printed circuit board. As a solid connection, the PCB plug-in base can be quickly and easily mated between the emergency stop switch and the PCB. This method of assembly reduces the back panel depth to a minimum (26 mm) and allows wiring errors to be prevented.
New product
New Series 09 Rugged CAN Keypads.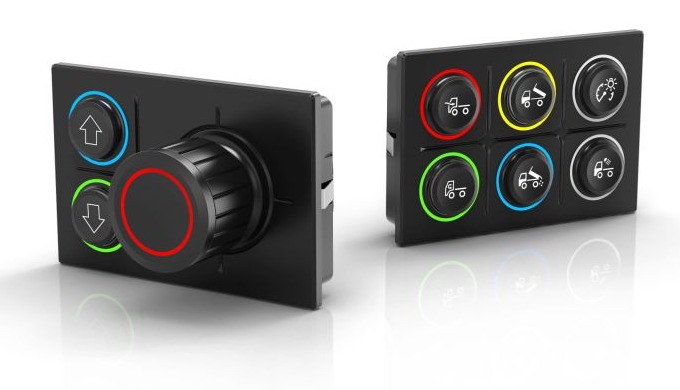 Date: January 12, 2020 11:00 PM
For rugged applications in heavy duty and special vehicles.
Olten, Switzerland, August 2019
– High reliability and functional safety are crucial to controlling safety-related applications in vehicles and machines – whether in construction equipment and vehicles, agricultural equipment or in special and commercial vehicles of various types. Harsh environments and low back panel depth require a robust and compact product design. The actuators and indicators must also be precisely configured, both mechanically and electronically, to suit the respective application. The new high-quality Rugged CAN Keypad and Rugged CAN Rotary Cursor Controller from Series 09 meet these requirements with cutting-edge system integration.
Typical applications
Roadmaking vehicles and roller compactors
Loaders, dozers and excavators
Cranes, dump trucks and crawler drills
Fire-fighting and rescue vehicles
Road sweepers, cleaning vehicles and refuse trucks
Snow removers and groomers
Agricultural vehicles and equipment
Robust, innovative design
– Robust and innovative construction is a feature of the Rugged CAN Keypads design. The up to IP67 protected actuators and indicators work reliably at operating temperatures from – 40 °C to + 85 °C. The low back panel depth and robust clip-in or screw-in mounting allows for easy, flexible installation, either vertically or horizontally. These high-quality devices also offer excellent tactile feedback, and are clearly visible in daylight and at night thanks to the powerful RGB LED halo and LED symbol illumination. Attractive and configurable 4-segment halo button illumination is integrated as standard. The customisable illumination provides the operator with excellent visual feedback, and is combined with a unique, contemporary design. Legends can be selected from our extensive library of industry-recognised, laser etched ISO 7000 symbols or customer supplied graphics to meet end user specific needs.
Advantages
Individual 4-segment and RGB halo ring illumination
Designed for functional safety*: ISO 26262 and ISO 13849
Intelligent HMIs with CAN bus integration
Robust, innovative, ergonomic design sealed up to IP67 protection
Interchangeable ISO 7000 range of symbols or customised symbols
Functional safety* and CAN bus integration
– The Rugged CAN Keypads feature high reliability and are designed for functional safety in accordance with the EN ISO 13849 PLD and ISO 26262 ASIL B standards. Put simply, functional safety means that the system monitors whether the safety-related function is working properly. If a function error occurs, the system promptly informs the operator. Thanks to the CAN bus integration, the devices are intelligently and easily integrated into a CAN system – the devices are fitted with a Deutsch DT Series connector.
More than an expert. A partner of the automotive industry. As a global partner to major automotive manufacturers and suppliers, we provide our customers with high-quality, products, design capabilities and services. Through many decades of commitment and consultation with the automotive industry, EAO is an established global supplier of operator control panels, sub-assemblies, switches, buttons and indicators.
* Functional safety with CANopen Safety protocol available as of 2020.
Location - EAO Schweiz AG
Opening hours - EAO Schweiz AG
Monday
8:00 AM - 12:00 PM
1:30 PM - 5:00 PM
Tuesday
8:00 AM - 12:00 PM
1:30 PM - 5:00 PM
Wednesday
8:00 AM - 12:00 PM
1:30 PM - 5:00 PM
Thursday
8:00 AM - 12:00 PM
1:30 PM - 5:00 PM
Friday
8:00 AM - 12:00 PM
1:30 PM - 4:30 PM
Activities - EAO Schweiz AG
Producer
Distributor
Service provider
Main activities within the Kompass classification
Secondary activities within the Kompass classification