EHG2308 / Industrial Ethernet Switch / Unmanaged Switch
- Product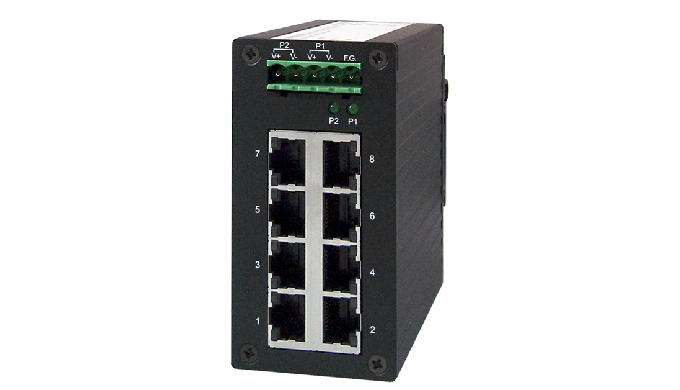 Industrial 8-Port Unmanaged Gigabit Switch, DIN-Rail mount, Metal housing

EHG2308 with 8 RJ-45 Gigabit ports for your industrial applications. It designs to work in the industrial environment, such as in hazardous locations, where it complies with CE, FCC, UL, IP50 and RoHS standards.

EHG2308 protects itself from receiving t
Description of the Product
Industrial 8-Port Unmanaged Gigabit Switch, DIN-Rail mount, Metal housing
EHG2308 with 8 RJ-45 Gigabit ports for your industrial applications. It designs to work in the industrial environment, such as in hazardous locations, where it complies with CE, FCC, UL, IP50 and RoHS standards.
EHG2308 protects itself from receiving too many broadcast packets. During normal use, broadcast packets will be forwarded to all ports except the source port. However, it will discard broadcast or multicast packets if the number of those packets exceeds a threshold in a preset period of time. When the preset period expires (about 800ms), it will then resume receiving broadcast or multicast packets until the threshold is reached again.
EHG2308 provides two redundant power inputs that can be connected simultaneously to wide-range DC power sources. If one of the power inputs failure, the other live source acts as a backup to provide the EHG2308 power needs automatically.
The device also embeds an Packet Prioritization feature that is advanced for unmanaged switches. The switch is able to read the QoS field inside the VLAN tag of the packet, prioritizing those that are important to reach the end device first, even during network congestion. This is vital in Industrial Automation applications that are, for example, Profinet Based.
8 x 10/100/1000BaseT(X) RJ45 ports
10/100/1000M Full/Half-Duplex, MDI/MDI-X auto-detection
Broadcast storm protection
Support IEEE 802.3/ 802.3u/ 802.3x
Profinet Packet Prioritization according to 802.1p
Redundant DC power inputs
Operating temperature ranges from -10~70。C
Rugged high-strength housing
DIN-Rail or wall mounting ability
Price of the Product
Price on request
Category of the Product
I want to get more details about the product
Company catalogues - ATOP Technologies
Brochure - Industrial networks, serial device server, media converter - ATOP Technologies (English)
7 pages

Product selection guide - Protocol gateway V0.9._4 - ATOP Technologies (English)
20 pages

Product selection guide - Switch V0.9 - ATOP Technologies (English)
24 pages